This beauty you're looking at, yes the lovely one right above with the pink and pewter details, that's my new Amy Kathryn diaper bag.  If you know me, then you're well aware that I have been on the hunt for the most perfect diaper bag from the second I got pregnant with Dessa.  Before she was born, I decided I'd go with a tres chich Coach number in a brown pebbled leather with pink stitching.  Well, that one lasted about a month and the love affair was over.
I never got another diaper bag after that because I was scared to commit.  Silly, I know, but I need to love (Love – with a capital l) my bag.  And nothing I came across seemed to fit the bill.  Petunia Pickle Bottom – gorgeous designs, amazing organization and the most swoon-worthy detail: the built-in, fold out changing pad.  Couldn't commit because I didn't like the fabric (either it would pull or I couldn't stand to walk around with the "glazed" plastic look).  Skip Hop, it's like everyone's holy grail, so I thought for sure it would be mine.  But I'm not a canvas girl and I could never find a middle ground between the giant ones and the too small ones.  Fleurville was just too much of the plastic look for me to handle.
I was so desperate I even contemplated the diaper bags with ridiculous price tags.  Mia Bossi has some beautiful designs but they're just too pretentious and it's kind of like when I think I can get away with an entire J. Crew outfit when I'm really more of  a mish-mashed JCrew, Arden B, Gap and TJ Maxx kind of girl.  Kate Spade's Noel design takes my breath away every time.  I can't pinpoint what it is but I adore it.  The $525 price tag, though, stops me dead in my tracks.  Gucci – without shame I call myself an asshole for evening thinking about this $1100+ option.  I saw a new mom at a local cafe sporting it and my eyes almost popped out of their sockets.  I'm not a label whore but it was soooo pretty.  I got over it quick.
So I went on a search for something a little different.  I tried to stay away from the big names and came across a few which I'm still thinking about now.  I decided on the Amy Kathryn because it's so me.  My husband saw it and said it was perfect for me.  I know lots of moms have a hard time find "the" diaper bag, so here's a round up of some of my not so traditional finds for a diaper bag:
-First is the Lug Puddle Jumper Gym Bag ($75). I am a serious sucker for organization and pockets and secret compartments so this one is my wet dream (pardon the expression). The shoe pocket seems ideal for diaper essentials. Only downside for me is I'd like to be hands free at this stage (toddler and newborn on the way) so I might keep this one in mind for further down the road.
-Another Lug beauty the Tuk Tuk Carry All. You can't tell from this picture but it also has a secret compartment ala the Puddle Jumper in the back. It just seems ridiculously functional and $95 I really haven't seen anything that compares.
-Le Sport Sac's Allie ($108) was almost the one. I love the fabric and I've only heard great things about how wonderfully these bags hold up over the years. In the end, though, I had to go with something a little bit more stylish.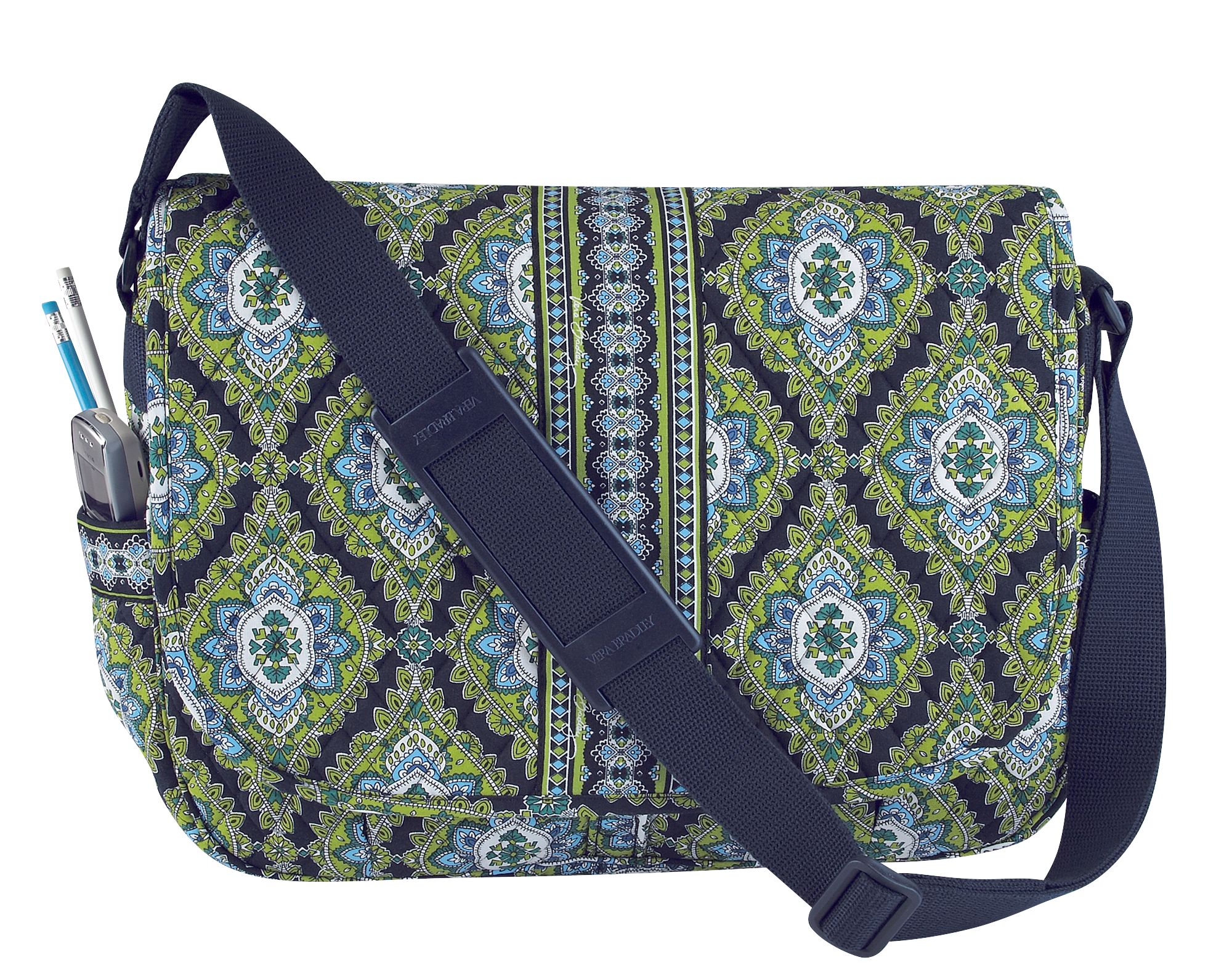 -Vera Bradley is my secret crush. This is her messenger bag (normally $84 but this retiring color is $45) which looks like a great every day size. Not big enough for both newborn and toddler essentials which is why I didn't get it but still dear to my heart. Jeremy despises these bags. He says I can buy one when I'm a grandma =(
-The Loom Go Tote Classic ($95). Love the color combo & how spacious it is. I haven't seen it in person so I can't tell how I really feel about it. The many pockets and sturdy bottom appeal to me.
-Babymel's Amanda ($88) reminds me of the StorkSak bags but with better patterns.  I've never seen one in person but love the way it looks!  It's a UK based company but available online through Let's Go Strolling.
Hope these were helpful.  I'm learning, though, that I can't just count on one bag.  Not just because style-wise I'll get bored and need to switch things up but as my kiddies grow I'll be adjusting the kinds of things I carry with me.  Since most of these bags are reasonably priced I wouldn't be surprised if a couple of them end up in my closet.  Feel free to share your best diaper bag recommendation.  The hunt is never over!
I apologize for how this post is formatted. I hit publish before I could figure things out. I went back and tried to fix it only to make it worse. I'm working on getting things to look half way normal!