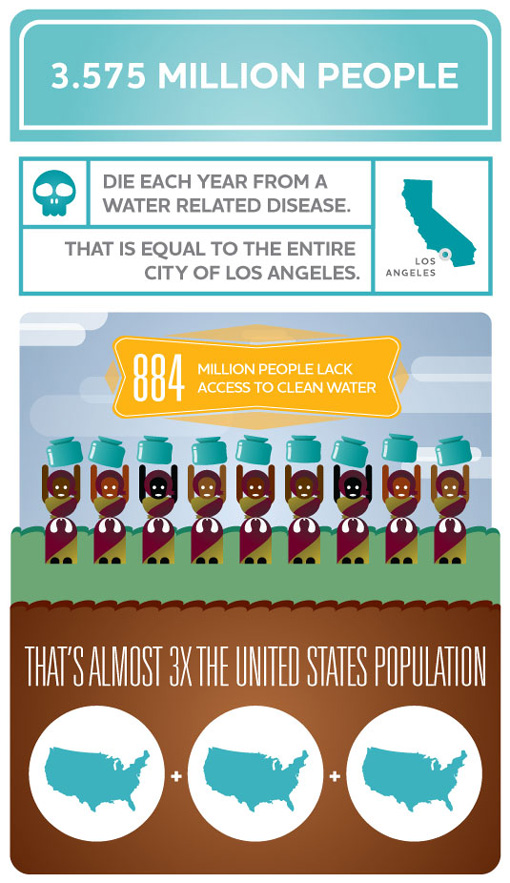 Brushing my teeth, flushing the toilet, making tea, taking a shower, running the laundry – I can't tell you precisely how much water I use every morning but it's a lot.
I didn't give my water consumption much thought until the amazing women at The Mission List put out the Bat signal for a campaign with Water.org, a non-profit organization focused on making clean water accessible. The graphic above is from their site and it's just a small glimpse of the tragic way access to clean water is affecting millions of people around the world.
In our comfy lives it can be easy to forget how much suffering is taking place because basic human needs aren't being me. It can also be easy to feel helpless. How can one person really affect any change?
Easy peasey. Join me and Water.org over the next ten days to raise $2,500 to save 25 lives. A single donation of $25 is enough to provide clean water for one person for a lifetime. A LIFETIME, people!
Come along for a life saving ride over the next 10 days. I'll be sharing on social media, posting on the blog and hoping to make more than a dent in our $2,500 goal. If you're in the mood to save a life, click here to access our fundraising page. The Caterpillar Foundation has generously offered to match all gifts during the campaign up to $200,000. So technically, you get to save two lives!